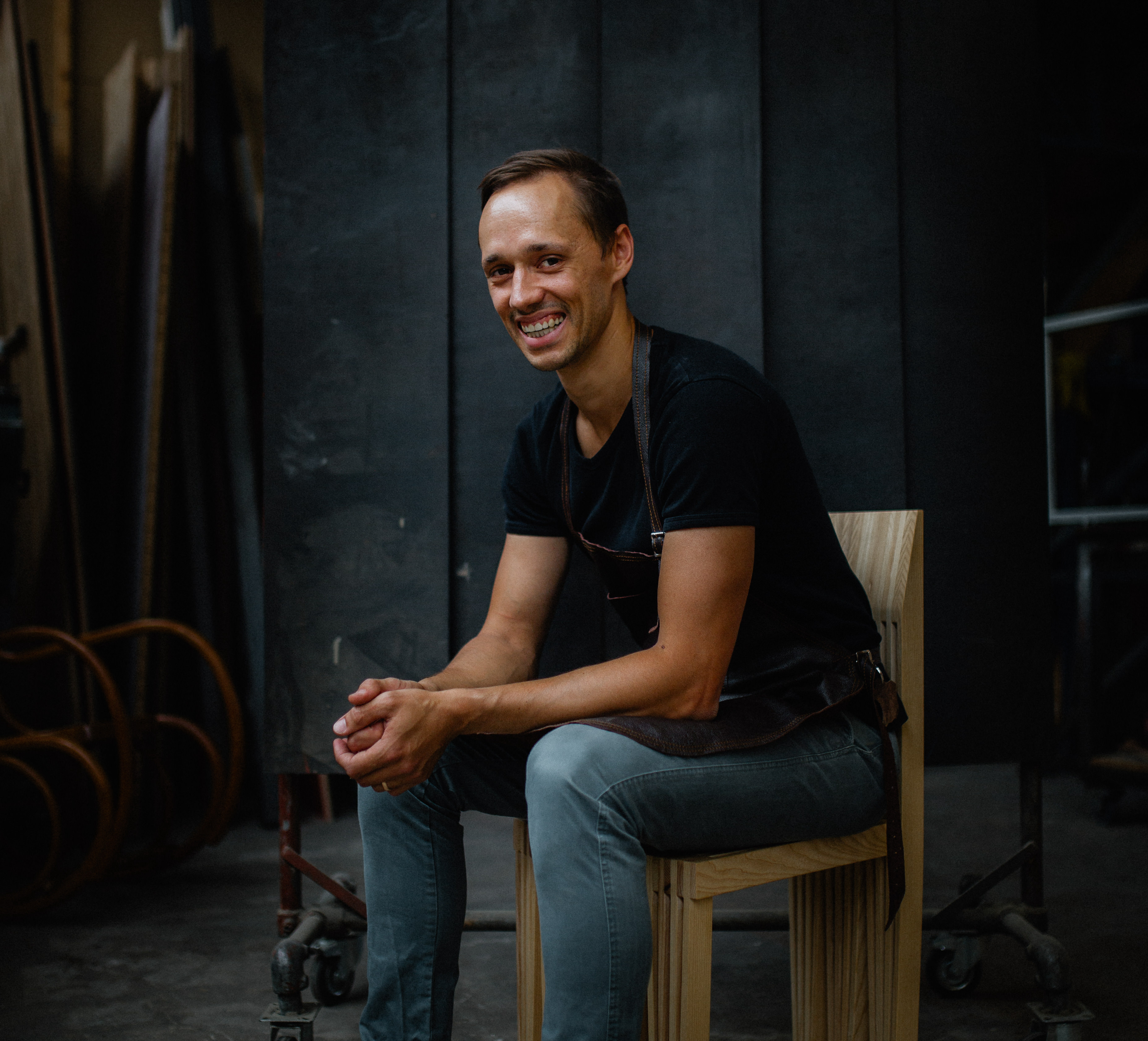 WhatsAppen met 99 Days of Design-winnaar Albert Potgieter
28-10-2021 (14:48) - Appen met
99 Days of Design by Vistaprint werd dit jaar gewonnen door meubeldesigner en -maker Albert Potgieter. Zijn origin story is een interessante, hij was namelijk eerst fysiotherapeut in Zuid-Afrika voor hij aan houtbewerken begon. Met de winst ontvangt hij een geldprijs, een nieuw logo ontwerp en andere marketingproducten, maar wat hij daarmee besluit te doen is misschien niet zo standaard. FONK sprak Albert hierover.
WhatsApp-status: Available
Hi Albert! This is Anne from FONK. Are you ready for the interview?
Hi Anne. Yes I am

Great!
First of all, even though it has been a while, congratulations on winning 99 Days of Design! Your work is really stunning and quite unique
Wow thanks Anne. I appreciate that

Can you take us with you in the process of the challenge? How did you end up participating? How does it feel winning from such a large group of entries?
Wow the feeling of winning is quite surreal still.
So I have a few people in my community that I do a weekly business accountability with. A group that we started to just support each other and encourage each other and set weekly goals within our business. One of the members told me about the competition one day and I thought it will be great to enter and see what happens. It was a bit by chance really.

Oh that sounds wonderful! It's nice that you support each other - especially when such a big thing comes from it

Yes definitely. Community is important when starting a business. It has helped me so much in the past and still does

Really nice
You have made quite an interesting career switch - you came from physiotherapy to designing and creating furniture. Why did you make the switch and how was that change for you?
Yeah it has been quite a journey and quite a leap of faith to do it. So my wife and I moved to Rotterdam in 2017 from South Africa for her job. Then at first I started to apply to be Physio in the Netherlands (a long process) and in that time I spent a lot of time alone while my wife worked. During that time the Lord placed a dream on my heart to start a business where I can use carpentry and furniture making to reach people. To get people into my business and teach them, mentor them and give them a skill. Specificity people that don't have work or need a break through in life. Refugees for instance are on my heart to reach.
Then I just took the leap and went for it. Long story short basically. Hahaha
The change was quite big, because I had no experience in furniture making or designing, I had no tools, no money to start, no workshop. Hahaha. It's a bit crazy if I think back, but that time I just took step by step. Well I still do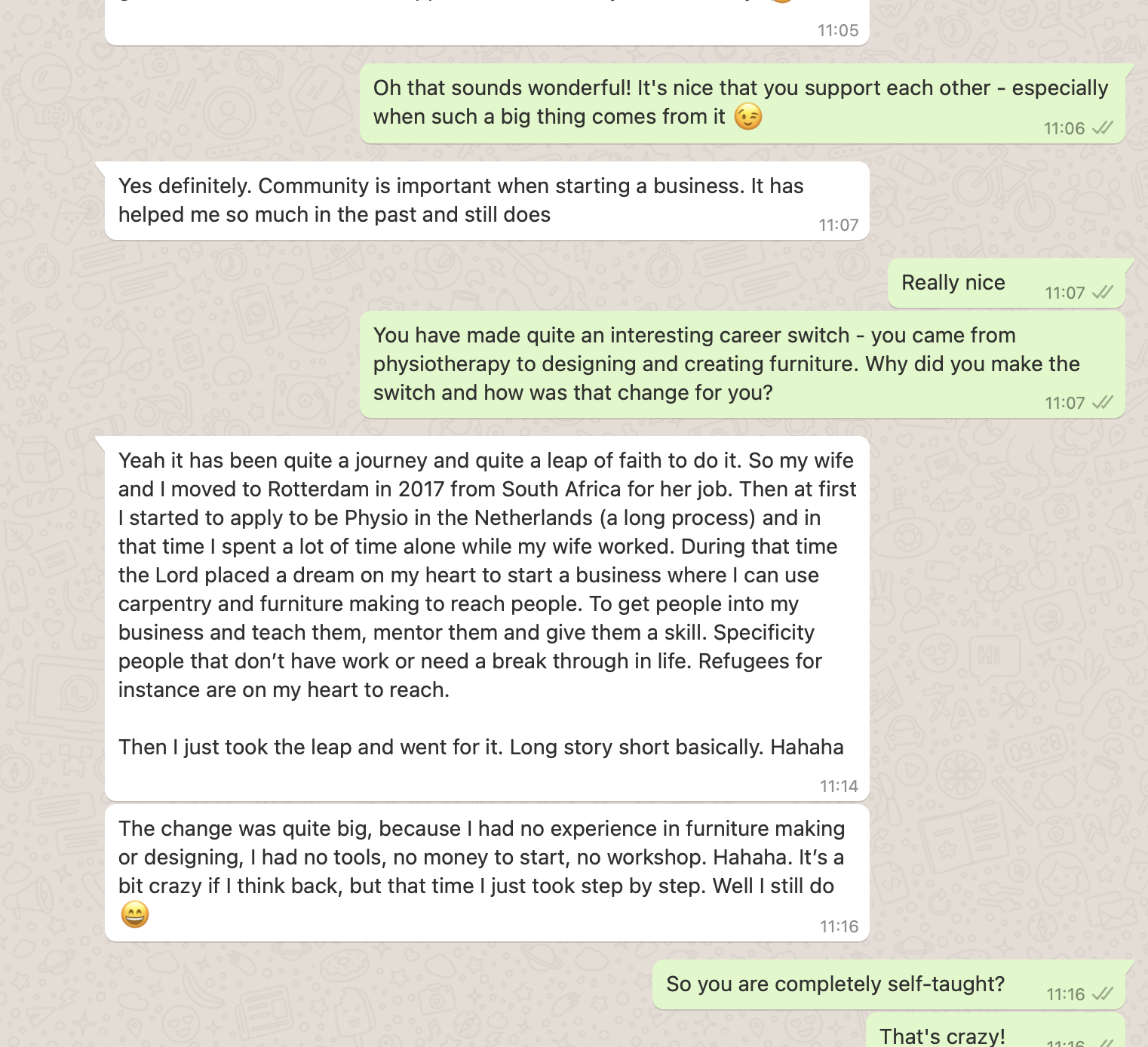 So you are completely self-taught?
That's crazy!
Really impressive
Well, YouTube helps a lot


Hahaha
Cool
Also I tried and still try to surround myself with people that know better than me so I can learn from them

That's always a good idea of course
You intend to start a new department in your company that makes affordable art, correct? Is that what you are going to do with the money?
Also from the idea that you use carpentry and furniture making to reach people?
Yes thats correct, I already started to do that. Vistaprint and 99Designs made it possible for me to change my workshop a bit so that I can start to get people in that I can mentor. I started with one person now, but it will grow to more.

I am also busy designing the affordable art line. I want to use this line specifically to teach people on and make it with them. It is called the Redemption line

Really cool!
All this takes time and money and with the prize money that I was giving, it freed me to be able to design and make this line and also to give the business a boost in this direction, which might have taken years more to accomplish

Yes it sounds like such a great opportunity
Where do you get people from that you intend to mentor?
How do you find them?
I contacted a few organizations in Rotterdam to ask for advice and help. Currently I am helping one guy that came to me through Rotterdamse Douwers. There is still more people to speak to, like people and organizations that are involved with refugees etc
Nice! Really admirable that you intend to use your platform for uplifting and empowering others
Last question: where do you see the future taking your company and your work?
The long term goal is to actually employ people, that need redemption and a chance in life, into my business and teach them while they work for the business. I want to grow the business to a place that employs and mentors multiple people while we make art and work with our hands. Then grow these people in the business or send them on to start their own thing or to other companies. The business exists to for people and to give them a chance and I want to reach more than just one at a time. That is the goal
And also make great art pieces off course

Haha
Well, I wish you the best of luck with that! Sounds like a greatly compassionate goal
Thank you so much for talking to me Albert!
Thank you Anne. I appreciate the talk
If you are ever close to Keilewerf (my workshop) then pop in for a coffee. I would love to meet you.
Have a great day

Ah, great! Thanks for the invite. will keep that in mind!
You too!
---